From premium exotics, 4x4s, to affordable off-roaders, car enthusiasts are attracted to an incredible variety of vehicles. Defining a car enthusiast is difficult. Take the easy going demeanor of economist, CEO and intrepid racing car driver Sheran Fernando, a keen motor sports racer and classic car collector who switches into race mode effortlessly. The passion for cars goes back in time for Sheran Fernando. He cannot recollect a period when he was not fascinated by cars, even if it was a dinky car he recollects holding in his hand as a child. In his home in the exclusive neighborhood of Bullers lane, Colombo 7 one can find trophies of races won and a collection of car models displayed in the living room.
Parked in the driveway outside is the real thing known to make most people take a second look – A Range Rover Evoque Coupe and a Land Rover Discovery. The contemporary modern house where Sheran, his wife Roshi and daughter Shenaya live has been designed tastefully with a lesser composition of objects rather than more. Roshi has created an atmosphere of warmth that is simple but luxurious, with a casual elegance.The four-bedroom two-storey house has a large garden where a couple of large shady trees provide cover.
By the entrance an arrangement of comfortable plush chairs has been created. Sheran's favourite place is one of the chairs which is where he heads. He sits and stretches his feet out. "I sometimes take a catnap here," says the modest and gentle mannered economist. Sheran is content to spend a lot of time home. "We have a few friends that we get together with occasionally but most often than not we stay in. I enjoy unwinding with scotch, single malt and listening to my music. The soothing colours of cream and beige on dark wood are the dominant hues that run through the living room furniture. The most prominent features in the living room are the large comfortable sofa sets arranged around the living area. At any given point it is easy to find a chair and sink into it. His other passion besides cars is music. His collection of music is given pride of place in his living room. Large yellow speakers placed on top of the stacks of CDs and DVDs in the cabinet stand out. Sheran could well be one of the most envied men in Colombo today for the cars he drives, owns and sells. A little over a decade ago Sheran acquired the Agency for one of the most coveted and iconic British car brands: The Land Rover. Named by the global brand consultant Interbrand as one of the most valuable 100 brands in the world for 2014, Land Rover marked recently the best global sales performance in its history with sales records set in 42 markets. Out of the 100 top global brands Land Rover has been ranked 91st with a brand value of $ 4.47 billion.
There are 800 people who own a Land rover in Sri Lanka. The Brand's high profile visibility and highly targeted brand exposure at selective events and sponsorships deals is maintained, steered carefully by Sheran.
"We are selective and function as an exclusive club" he says. It is almost like a club membership for a privileged few. Paradoxically it is also the symbol of adventure and exploration. The adrenaline rush of being able to drive into undulating terrain is its brand appeal.
Introduced to the world at the 1948 Amsterdam motor show, Land Rover owner club members claim that 75% of the vehicles introduced to the market half a century ago are still on the road. The Discovery and Freelander models have become the more sought after models as a symbol of luxury. Across the globe the car is also the favourite for many high profile loyal fans from Queen Elizabeth to Fidel Castro, and from Sylvester Stallone, to Michael Jordan, Oprah Winfrey, Michael Jackson, and Sting.
Sheran is a die-hard classic car collector. A personal favourite he says has always been a white MGA manufactured in 1957 that he bought in 2005.The desire to own it made him pull out every cent he had to pay for it even when it was during a period when he could not afford to.
The road for Sheran has been well travelled and sometimes bumpy. Having studied to be an economist, he holds a MA from Macquarie University in Economics, Finance and Management and at first glance could well be mistaken for an academic rather than a man with the driven spirit of a racer and the adventurous profile of an explorer looking to navigate unchartered territories.
The Land Rover dealership acquired a decade ago saw him riding out the lean years in the automobile industry when the business in luxury SUVs had yet to take off but the surge in sales over the past two years as well as a timely handshake with a new high profile business partner defines Sheran Fernando's staying power and out of the box thinking. "At one point it was a struggle to import cars and those were hard years…" he reminisces.
Land Rover put out an advertisement sometime back asking for "Defenders, Range Rovers and Discovery's which embodies the spirit of this world famous brand – freedom, adventure, individualism, authenticity, supremacy and guts.
"It embodies the entrepreneurial spirit of a man who took on the challenge to sell a vehicle that sometimes costs more than a piece of prime property in a contained economically developing country. Sales figures have soared over the past two years, more than ever in the eleven years he has been in business. "We sold more in the last two years than in the eight years we have been in business." With the opening of a new office and showroom down Flower Road, the hard work is finally beginning to pay off. The Partnership with Sumal Perera of Access Engineering who bought over Sathosa Motors is preparing the foundation to make SML Frontier Motors the leader in the local automobile industry. "I met Sumal at a match and within a month we were partners. I appreciate his attitude, he has been a tower of strength. His talent is that he is hands off ".
Built on a Jeep chassis, the Land Rover's main selling points were its rugged, lightweight construction and ability to effortlessly cover rough terrain.
Land Rover has a history with the Sri Lanka military. It has been a partner for the past 50 years before the luxury segment was brought in.
Sheran believes in giving customers a highly personalized environment "As the road kilometers increases in Sri Lanka it is becoming a real pleasure to drive across the Island" he says. "Our research shows that people love driving an SUV for the sheer pleasure of sitting behind the wheel of one."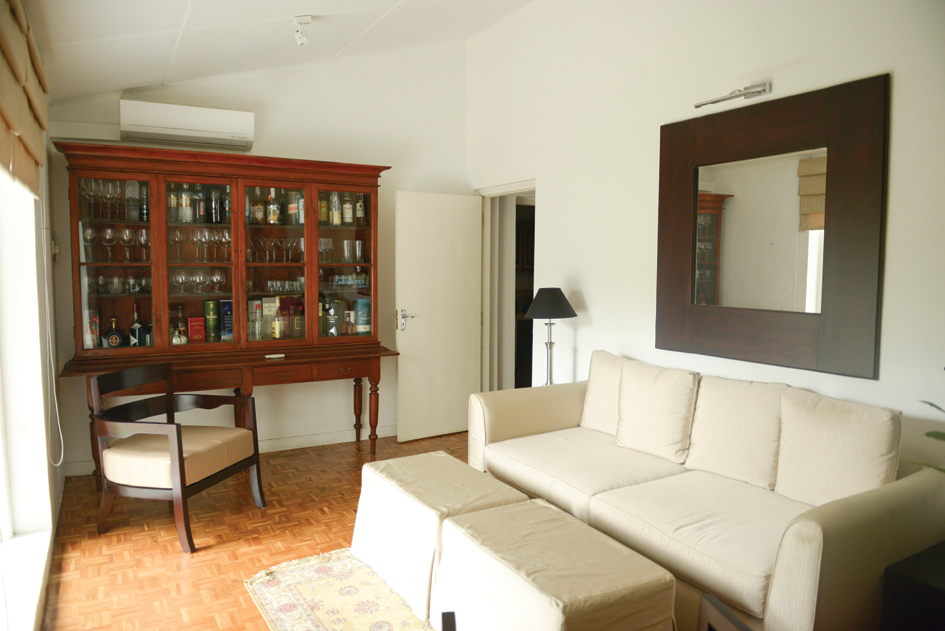 At home Sheran says he is happiest eating Roshi's cooking. "Eating at home with the family is a performance," he says. "We don't do TV dinners. The table is set and the food is selected and prepared carefully and we take time to enjoy the meal. Some of the appreciated restaurants on trips to London are the Guinea Grill located in Mayfair, London, a traditional English restaurant serving the best steaks, fish and seafood in Mayfair and Tozi for the best Cicchetti (Italian Tapas).
The family makes it a point to go on holidays abroad frequently and venturing out of Colombo to explore favourite terrains outside Colombo. As an avid wildlife photographer Yala is an often visited place and Nuwara Eliya is another destination the family visits at least once a month.
Sheran has represented Sri Lanka in motor sporting events locally and internationally. He also owns a Defender 90 Racing that was assembled in Sri Lanka. That was an achievement for the company. The Defender was built by long-time colleague and friend Anuruddha Yapa. "Since many associate the Defender with off road excellence we were able to establish the capacity of The Defender as a racing vehicle. By building and racing this vehicle we established that the Defender is a very competent product at high speed."
The Land Rover Defender – in the early stages called the Land Rover Ninety and Land Rover One Ten – was a four-wheel-drive off-road utility vehicle developed from the original Land Rover Series launched in 1948. In October 2013 Land Rover announced that its production would end in December 2015, after a continuous run of 67 years. The Defender had been marketed as a private recreational vehicle. Plans to launch a manufacturing facility in Hambantota has been in the planning stages for some time and with the new partnership arrangement the road for exploring all possibilities looms ahead.
Settling further into the chair the reticent CEO opened up about his style of working. "If all goes well, I plan to retire in a few years. It could even be in five years. Of course that also depends on my Partner. My style of operations is very informal. Having worked for a larger part of my life for other people I know what to avoid. The work environment I have created is to allow our team to function independently and take over if I plan to retire. I don't encourage any form of negativity in the work environment", he points out.
The appeal of an academic life and returning to a University is a focus nevertheless. Until then the rush for adventure remains a constant factor.
My favourite thing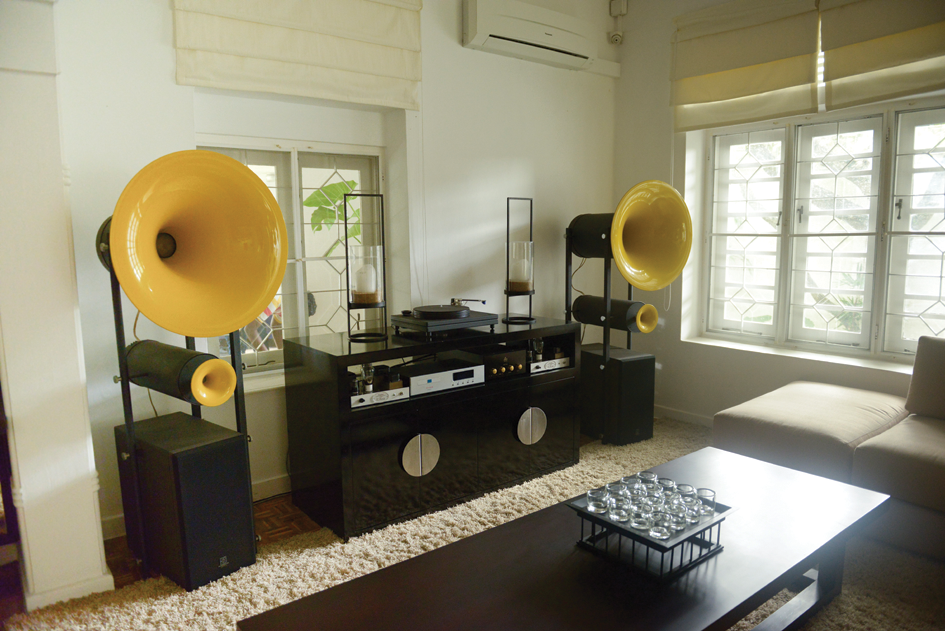 My favourite thing is my collection of music. As with any lover of music it ranges from the classical to the contemporary. Songs from the soundtracks of the musicals of Andrew Lloyd Webber to the classic recordings of German Composer Richard Wagner are part of the collection. Jazz is another favourite. The Collection has different genres from Blues, Country, Folk, Reggae to Rock. My daughter is getting me to add her selection of music to the range as well and that is interesting.