Customers will place orders on the table at the table. Added to the mix will be xenon heat lamps, spun polymer amalgams, centrifugally heated plates, ultraviolet and ultrasound dishwashers, seated cooks, ergonomic surfaces and cloned food.
Cooking systems will be so precise that they can mix steam and dry heat, cooking more efficiently and completely than ever before. Kitchen staff may be elsewhere but able to adjust the temperatures on refrigeration, have alarms be triggered to let them know when something is out of compliance or even adjust an operational parameter. That's the future of commercial kitchens, which is fast approaching.
Technology is taking restaurants to the next level. The introduction of intelligent self-cooking smart ovens that think like a chef, in Sri Lanka's high-volume restaurant kitchens is placing culinary artificial intelligence on plates.
In the gleaming high-tech kitchen of the future, pressing a few buttons will activate a self-cooking oven preparing 320 croissants in 23 minutes, 480 rolls in 18 minutes or 160 steaks with a grill pattern in 15 minutes.
It has taken ex-planter Gnana Samaratunga two decades to gradually convince the hospitality industry that it is time for artificial intelligence to enter Sri Lanka's commercial kitchens. His current projects, through his company Waverly, are transforming the timeconsuming creative process of culinary art into a precise science through a range of high-tech kitchen equipment.
Waverly supplies appliances and equipment ranging from self-cooking combi-ovens, eco-friendly HVAC (heating, ventilation, and air conditioning) solutions,to digital coffee machines. Its charming 70-year old Chief Executive, whose looks belie his age, is passionate and excited about introducing new technology and the impact on productivity this has on the industry.
Because of Gnana Samaratunga, today's chefs have a sous-chef who is a chrome clad computer, that functions at the touch of a switch, is completely programmable, and very importantly, will not take a job in a competitor's restaurant.
The line between the front and back of the restaurant house is fast disappearing, as restaurants are only too happy to place their kitchens in full view of customers for tableside exhibition cooking. It is easier for chefs to create a theatre effect to show off their creative skills, knowing that the cooking is being taken care by their intelligent equipment.
"Evolving consumer expectations and behaviours is driving restaurants to meet these shifting needs with re-imagined styles of service, menu offerings, pricing and targeted messaging. Technology will play a part in supporting more creativity in the kitchen of the future. The change is gradual here and we are excited to be part of writing the next chapter in the commercial kitchens here" says Samaratunga.
Chefs and restaurateurs are beginning to rely on high-tech gadgetry and are attracted to devices such as Thermomixes, sous-vide machines and combi self-cooking ovens that can roast, dry, steam, all at the same time if required, replacing conventional cooking appliances. According to Rational, who introduced their latest award winning intelligent oven in 2014, their wizard oven independently recognizes the load quantity and size of the food, continuously monitors the cooking process and automatically adapts to the relevant food.
It was during Gnana Samaratunga's tenure as the Director of Marketing and Sales of Le Meridien Hotel, then managed by Air France, that he had a glimpse into the new hospitality and catering industry trends. This, along with the multitude of industry exhibitions led him to realize the potential to modernize Sri Lanka's catering industry and was the genesis of Waverly. Gnana, inspired by the advances made in commercial catering equipment began to tactically order high-end equipment starting with 40-year-old German company, Rational AG's combi-ovens. Rational had invented the technology in 1976, and the first combi-steamers had difficult-to-operate manual controls. With a manual model the chef had to enter all the cooking parameters like time, temperature and load. In the latest models the chef punches in the cooking requirements setting in motion preset programmes.
"Early programmable models just had nine programs each with about three steps, now they have 1,000 programs each with 100 steps or cooking phases. Stored programmers can be transferred between different ovens using the USB port, adding extra convenience to chefs with multiple ovens or kitchens," he adds. These ovens cook at top speed and the result is food with a crisp, brown exterior.
There are now 90 self-cooking ovens installed in Sri Lankan professional kitchens each costing Rs1.5 million to Rs4.5 million, which says Gnana, can be recovered within a year.
The family owned Company formed in 1993, struggled initially. Trying to convince professional chefs and hoteliers – who themselves were experiencing a rollercoaster ride during that time – that technology was profoundly changing the way that hotels were going to work in the future, was hard work. At one point, Gnana had to resort to selling personal assets to keep the business going. Urged on by his wife, he continued.
"There were periods of decline within the tourism sector due to the difficult conditions we were facing at that time, and here we were trying to convince F&B Directors and Executive Chefs that, despite these conditions, they had to look at a whole new category of expensive equipment and invest in my futuristic equipment to boost their productivity and profits" says Gnana.
Undeterred Gnana, who attributes his tenacity to being a sportsman having played both cricket and rugby and the fifteen years he spent as a Superintendent on tea estates working for Whitall & Bousted, was determined to seek opportunities in trying circumstances. His first breakthrough came a year after it was formed in 1993, with a Rs20 million contract to install high-end laundry equipment at Club Palm Bay in Marawila. A second Rs50 million contract with John Keels to establish their central laundry in Bentota soon followed.
An agency with the US-based Maxi, an industrial laundry equipment manufacturing company, was one of Waverly's first partnerships. The company soon diversified into turnkey solutions and design for commercial kitchens by increasing its technical capacity and product diversification.
As hotels grew larger, they were first concerned with their front-end operations and focus on interiors and service. It took time to convince hoteliers to focus on what Gnana calls,"overhauling the most critical areas of the operations in a hotel". Commercial kitchens have long been among the most highly engineered portions of any hotel building. While changes to this space over the past 30 years have seemingly been gradual, it now appears that a number of converging factors will profoundly impact the design of commercial kitchens. Gnana reminisces, "When I started there were no industry standards. I needed to set my benchmarks high. I only wanted the best equipment. When it comes to commercial kitchens it is not about the size, but what you can do with it".
He says "there are a range of mitigating factors to take into consideration such as space, budget, type of food on offer and speed of service and the right equipment selection."They discovered that most restaurants in luxury hotels looked good with the latest finishes, but the infrastructure lacked capacity to absorb technology driven equipment. It was time, he realized, to put together a team of technical and design specialists to offer design capability who were also competent enough to provide a complete turnkey service.
The company's major breakthrough came in 2002 when the Colombo Hilton wanted a modern kitchen for their signature, fine-dining restaurant Spoons to cater to their well-heeled customers. Waverly won the international tender to design the kitchen,outbidding leading Singaporean companies. The Rs30 million contract was a turning point, and boosted Waverly's reputation to the top of the heap.For this project, Gnana partnered with the Italian stainless steel engineering company, Prisma, known to outfit commercial kitchens in luxury liners as well as some of the world's leading hotels.
The Hilton was also incidentally the first hotel to invest in the earlier models of the self-cooking combi ovens in 1995.The hotel currently has eight of these ovens installed by the company. "The main benefit of a programmable combi-oven is that anyone can use it to produce the same cooking results as a trained chef once it has been programmed. Programmable combis are more expensive, but given that the largest ongoing cost is labour, you could argue the extra cost can soon be recovered given that it doesn't require a trained chef to operate it,"says Gnana. The company continues to be involved in the current refurbishments.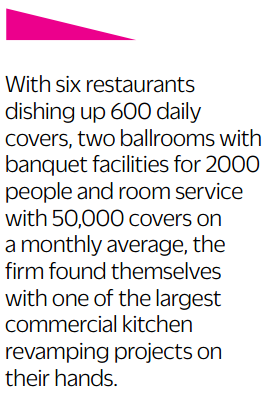 He sees quality and consistency as the driving forces behind his choice of equipment, selecting German manufacturers Winterhalter for their Dishwashers and Rieber for banquet trolleys and Dutch based Koma for blast freezers. For their partners in coffee machines,Gnana looked to Italy, partnering with La Cimbali for the barista experience, bringing machines that were able to control every aspect of the coffee brewing by adjusting the process to suit factors such as the grind of the bean and the humidity. The final result? A product that comes out to suit an exacting consumer's taste. For technological advancements in refrigeration they looked at company, Foster, a firm that pioneered blast chillers and freezers for commercial catering.
When the 500 room Cinnamon Grand was being expanded and modernized under the John Keells Hotel Group, Waverly was contracted to refit and give a complete makeover to the hotel's 30 year old 12,000 square foot kitchen as a turnkey project of Rs100 million.
With six restaurants dishing up 600 daily covers, two ballrooms with banquet facilities for 2000 people and room service with 50,000 covers on a monthly average, the firm found themselves with one of the largest commercial kitchen revamping projects on their hands.
"The biggest challenge was to decode the old wiring system running through 12,000 square feet of ceiling. Our electric engineers had the near impossible task of replacing them without disturbing the supply to the rest of the hotel.The project at that time was the biggest undertaken by five star hotels in Sri Lanka," says Gnana.
In 2006, Sri Lankan Catering turned to the company for a new kitchen to be installed at a cost of 6.7 million dollars. The prestigious client portfolio further strengthened, with Cinnamon Lakeside, Hotel Taj Samudra, MAS Holdings and Kandy Hotel School.
The restaurant kitchen is fast becoming one of the most high tech units in the hospitality industry. Soon, restaurant owners and executive staff will be able to monitor the entire back of the house round the clock on a smartphone or tablet."A smart kitchen" says Gnana,"is not so much a collection of machines, but of machines whose capabilities are fully utilized by a smart operator."
When a young entrepreneur wanted to open a novel concept restaurant called Calorie Counter for the health conscious, tech savvy Generation Y crowd, he turned to Gnana to equip his kitchen. "It was" noted Duaine Peiris,"like investing in the Rolls Royce of kitchen equipment"