In the eighties, a young mechanical engineer decided to return to Sri Lanka from the UK to test his expertise in the relatively niche air conditioning and refrigeration, AC&R,industry and create his own brand. Today the Frostaire Group under Mukthar Marikkar's Chairmanship holds 25% market share and with partnership tie-ups with two of the largest AC&R companies in the world, Frostaire has set sights on global reach and plans to go public soon.
The Sri Lankan AC&R market value is estimated at US$ 50 million, growing at 15% per annum. The overall Sri Lankan white goods market is only three per cent the size of the Indian market. India, China and Indonesia are the current key growth markets and the global AC&R industry is expected to reach an estimated $95bn by year 2018. Environmental conditions such as warmer global temperatures are helping sales in the Asian region to surge.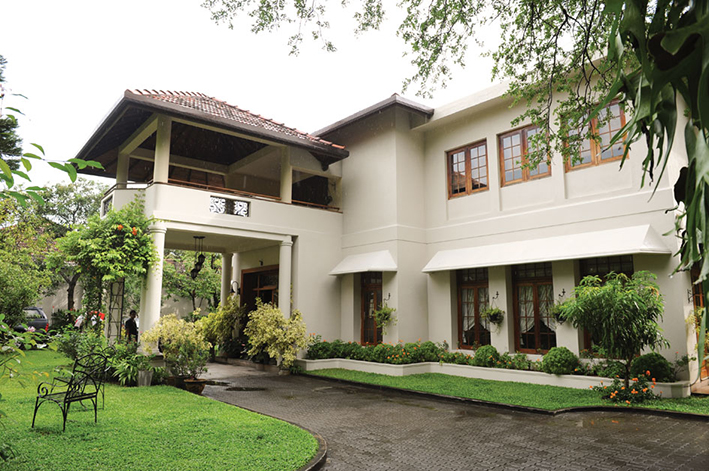 There is a sense of history in the home of Mukthar Marikkar, past and contemporary. The Chairman and founder of Frostaire likes nothing better than to sit in the verdant garden of his Torrington Avenue bungalow and enjoy the results of his hard work. His wife, Farhana has created a beautiful green space over the 25 years they have lived there.
The stately expansive Torrington Avenue colonial home captures the spirit of the family's combined inheritance of political, professional and entrepreneurial heritage carried down to this day. The house has been graced by the political and business leaders of the nation, from Presidents to Prime Ministers and continues to host Colombo's elite. Within the photo gallery of framed family portraits mounted on the walls is a photo of Farhana's grandfather, the former Minister Badiuddin Mahmud, a party stalwart of the SLFP in the 1960s and close ally of former Prime Minister Sirimavo Bandaranaike.
As the Chairman of Frostaire, a thirty-four year old company founded around the A/C&R industry, Mukthar Marikkar is a practical professional who on his return home from college three and a half decades ago began a small enterprise based on his qualifications as a young Mechanical Engineer to service and maintain air conditioners and refrigerators. With an initial Capital base of Rs25,000, two employees and a small office at Vauxhall Street, Mukthar laid the initial groundwork for a small engineering operation. Five years later, in 1985,the Company began manufacturing their own air conditioners and refrigeration units when economic developments began to herald the era of a surge in the domestic refrigeration market. With the open economic policy and the business climate of the early 80s, local manufacturing and imports of refrigerators increased tremendously. The company began to compete against leading established companies that were already importing global brands.
It was a bold decision to pit their locally branded air-conditioners against recognized players in a small market where comfort and cooling appliances were placed within the luxury segment, affordable only to the upper segment of the market. It was a challenge that Mukthar took head-on, since aspiring for leadership positions has anyway been the mainstay of the Marikkars.
Economic liberalization helped the business but the company's resources were tested to the limit when the nation faced an energy crisis starting in the mid-eighties and again in 2001 and 2002. Mukthar recollects dark days with frequent nation-wide power cuts that sometimes lasted for days. It was a testing time for the fledgling company. Even today sitting on the pinnacle of an established brand that he built, Mukthar recollects those power cuts as something of a nightmare for his company. The unscheduled blackouts saw electricity being cut for entire regions of the country for hours at a time and at the peak of the 2001–2002 power crisis, electricity supply to the entire city of Colombo was discontinued for six hours daily, three hours at daytime and three hours in the evening. It was not a good time for the A/C&R business.
The company survived and diversified into nine other businesses under the enterprising Chief Executive and Frostaire has since become a heterogeneous combination of related industries.
Frostaire today has the largest installed bases of air conditioning and specialized refrigeration appliances in the country. Their range of cooling-related solutions include the supply and installation of refrigeration equipment, chilling plants, and freezers for the catering industry as well as freezing tunnels, plate freezers, ice plants, cold rooms, and supermarket display cabinets. The company offers a comprehensive range of residential and commercial air-conditioners including sophisticated commercial and domestic refrigeration solutions. The air conditioning range encompasses everything from the ubiquitous split ACs, to VRFs, packaged ACs and chillers, while the refrigeration range covers water coolers, bottled water dispensers, deep freezers and modular cold rooms.Helped by extreme temperatures and high levels of humidity the demand for high quality, energy efficient, environment friendly and reliable cooling solutions are increasing with the growth in consumer durables demand. Marikkar is now innovating and introducing new products helped by his son Muiz who joined as Finance Director of the group and is part of building a bigger vision for the company.
In the nineties Mukthar was one of the Founder Directors and Deputy Chairman of Pan Asia Bank. He was also Deputy Chairman of Rupavahini Corporation and the Sri Lanka Broadcasting Corporation and is a Fellow member of the Chartered Institute of Marketing and a member of ASHRAE – American Society of Heating, Refrigerating and Air Conditioning Engineers, Inc. ASHRAE, founded in 1894, is a global society advancing human wellbeing through sustainable technology for the built environment. The Society and its members focus on building systems, energy efficiency, indoor air quality, refrigeration and sustainability within the industry. Mukthar is currently a member of the Board of Directors of the State Pharmaceutical Corporation of Sri Lanka and serves as a Consul General for the Republic of Tunisia in Sri Lanka since 2001 and is on the Board of Directors of Regional Development Bank.
The cornerstone of Mukthar's business philosophy is centered on innovation. The modest Chairman of Frostaire has also introduced one of the most clever and innovative products in the segment to the market. If you hear the clink of ice cubes in a glass of beverage in homes and commercial establishments it could be the sound of an ice cube that is today a household brand called Frosty. During a time when commercial ice was produced without emphasis on purity Mukthar created a product with improved standards of quality using the latest ice making technology.
The ice cubes are made by creating a hole in the centre of each and then flushing it with water to rinse the sulphur, iron, and other impurities concentrated there during the cubes' formation. Such purity concerned not only consumers but also businesses that required large quantities of ice to keep food cool and fresh. The resourcefulness of providing ready to use frozen ice cubes in commercial packs to consumers and establishments caught on and the Frosty brand of ice related products is now a household name, marketed as a convenient must have consumer retail item. By creating a tangible value around it, the Company had another salable product, Sri Lanka's first retail ice product.
A man of simple taste and pleasures, Marikkar's home is his castle. Family photos are tasteful black and white portraits on the walls. Farhana who went to College in India has filled her home with artefacts, paintings and expensive carpets from the Sub-Continent. Carefully selected crockery and crystal ware, beautiful vases, lamps and chandeliers, valuable antique furniture passed down from ancestral family mansions in Puttalam and Mawanella teleports one to the days of the colonial era. The house is warmly decorated with custom furnishings evoking memories of ancestral homes. Most ancestral properties today have been turned into boutique hotels run by family members. It's a grand home whose richness is tempered with a studied eye for moderation, where colour, form and sunny spaces all play a part in creating a home that is livable and aesthetically engaging all at once.
The entrance to the house leading to the two living rooms are filled with antique furniture and eclectic artefacts from exotic corners of the globe where Mukthar, the traveler in the family, has visited and brought mementos and souvenirs. Both Mukthar and Farhana say home is where their best moments are spent. The large formal dining area has been kept for entertaining visitors and Mukthar admits that the large well planned luxurious kitchen which leads to a verandah sit-out overlooking part of the garden is where they spend most of their time.
A smaller dining table and a larger one in the kitchen show signs of informal family gatherings being centered on this more homely part of the house. The rich timbre of original Burma teak is the pre-dominant factor of the house. The imposing wooden staircase that leads to the family's private quarters is the centrepiece of the adjoining wings of the two main living rooms. A large ethnic Indian vintage intricately carved wooden indoor swing takes pride of place in another smaller lounge area.
The past two years has seen a channel partnership tie-up with Bluestar for niche products to be retailed through Frostaire. Bluestar is India's largest listed central air-conditioning company. Bluestar has a US$500 million annual turnover, a network of 32 offices, seven modern manufacturing facilities, over 2,000 dealers and around 2500 employees to retail a range of their products. The company is positioned in the premium segment both in terms of features and pricing in India. Tie-ups with Chinese company Gree also making an entry into the Sri Lankan market was another recent partnership. Gree is the world's largest residential air-conditioning manufacturing company. The company has also ventured into tie-ups with global leading brands for eco-friendly and portable housing space solutions through MASCO's Porta cabin, Transport Refrigeration units and panel vans through GAH and Lanka Cold.
A joint-venture with the UK based Paneltex and Sommers with a US$1.1 million investment to manufacture polyurethane panels and related cooling equipment for cold and refrigeration trucks was another partnership. The cooling panels will be manufactured for export and the venture will also manufacture cooling equipment for the local market in a state-of-the-art manufacturing plant. Sales are tied to the combination of rapidly rising incomes and hot, humid climatic conditions.
With an expanding client base and an impressive domestic market share, Mukthar credits the mobility of the company to their superior after-sales support. "We have built our success on that foundation from the inception."
My favourite thing
"It will be the carved and ornate swing bought back by my wife from India. It probably has its origins from somewhere in the deep South of Tamil Nadu where these pieces are common in most homes. Here in Sri Lanka it is rare to find one, more so one that is a favourite place that I or my wife could sit on and relax. The other favourite part of my home is the garden, again a place to relax and unwind".