After bootstrapping his document publishing startup for eight years, Manoj Ranaweera has sold it to a US competitor. But he doesn't intend to rest on the laurels of his hard-earned return and instead will invest it and the lessons learnt from the past eight years in a company that has even bigger ambitions.
The sharing economy the world enjoys today was kick-started by social media, which is essentially sharing platforms on the Internet. Starting with sites like YouTube and Facebook, the Internet changed from being a source of information to one of sharing. To capitalize on this growing culture of Internet sharing, Manoj Ranaweera developed edocr.com as an interactive platform for publishing and sharing business documents across multiple verticals. Once a business uploads its documents to the site, the organization or anyone in the edocr community can distribute these to other professionals or on social networks like LinkedIn and Twitter. Search engines like Google can also find these documents easily. The software makes it easier for businesses to create brand awareness and generate demand for its products and services, and for businesses and professionals to find content and connect with services and products they need. Headquartered in Manchester, UK, the software had clients in over 200 countries at the time of its sale to Accusoft, a provider of document, content and imaging solutions as client server applications, mobile apps, cloud services and software development kits.
What led up to edocr?
I used to work for large consultancy firms in the UK. About ten years ago, I finished my MBA and got interested in startups. Around 2007, the Internet began to change from being about information to a more social aspect. Before we started edocr, YouTube was making a conversation around videos. Flickr was also growing popular, creating a conversation around shared photos. We also wanted to create a startup around sharing. So I shut down a previous startup I had begun and, in 2007, I founded edocr. My previous startup was around documents, but it wasn't about their social aspect. We thought it would be nice to have a platform in which documents could be shared publicly and people could have a conversation around that.
What does edocr do?
Edocr is about document sharing. There are two uses. One, you can share documents with your colleagues or your customers and suppliers, which is closed collaboration. There are a lot of products like that. Two, edocr publishes documents onto a destination site, which prospects can visit. A company could have lots of PDFs, brochures, white papers, user manuals, etc, and if they're uploaded to edocr, potential customers could read those documents. edocr would identify who that is, so they could build a relationship. If you look at those kinds of document sharing sites in the market, previously we had Sky Share, which LinkedIn acquired. There was also Docstoc, which Intuit acquired. The third player was scribd, but they changed to selling book subscriptions. We were the next player.
The website says it has clients in over 200 countries. Who are they?
We had everyone from very large companies like Dell to tiny new companies. A lot of professionals also used our software. Many sites try to promote books or copyrighted articles, but we're a business-oriented social network where people can share all kinds of learning documents.
Where did you see your returns?
Profit was really difficult. We offered mostly subscriptions, so we struggled to make money. There are twonew types of businesses in the world now. The first offers services for free, like Facebook, and makes money through advertising. The second is about value creation rather than revenue creation as in traditional business. If you can create value, someone else might be able to find a way to make revenue later on. We were trying to do both, and we were really struggling. Revenue-wise, we were not doing well. But we were creating value, and that's why Accusoft bought us. They saw value in us and put a price on it.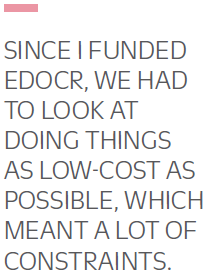 What were your biggest challenges?
The biggest challenge was that I funded the business. Most people don't do that, but I found ways to do that at a fairly low cost. Over eight years, it was very expensive. We could clear our costs, but we couldn't generate a lot of revenue, because it was really hard to make money with our model. We were just creating value. LinkedIn bought Slide-Share, but they scrapped payment plans. They see the value in it, but they can't actually commercialize it. This is the problem in the industry, where in certain businesses, it's a little hard to make money.
Another challenge we faced was the competitive landscape. Our competitors were heavily funded. Most were based in Silicon Valley. When SlideShare partnered with LinkedIn, we tried to do the same, but we couldn't get that partnership in place. Since our competitors were heavily funded, they could grow faster than us and we couldn't keep up in some cases. But I learned that, if you stay true to your core beliefs, then time can help you. A lot of our competitors simply didn't survive. Whereas we survived and in the end, we had an exit. Sometimes perseverance pays off.
Did you try to get any venture capital funding, or were you just not interested?
We were interested, but we had a few problems. When I started the company, I was working with two others. They left after a while, and then I had a problem finding a compelling reason for funding. The way the venture capital model works is that, if you raise money at the beginning, there are a lot of funding options. But if you want to raise funds after three to four years and there isn't a compelling reason, it's hard. You have to give a lot of equity away. So I decided to just fund the business myself, and we generated enough revenue to cover the costs. But I'm probably not going to do that with my next venture.
How did the sale come about and what's your next step?
Accusoft approached us just before Christmas. When someone is interested in buying your business, you have to decide on two things. Firstly, if you don't sell, could you build this business to a certain point of revenue or value, and what would that take? Secondly, if you actually sell the business and have cash coming in, what could you do with it? At that time, I had just set up a new company, and I was struggling to keep both companies going. So the question was, can I manage to do both or should I sell the one which has an offer? It was a pretty easy decision to make after a while. Now I can focus 100% on my new business.
Can we talk about what you'll be doing now?
The company is called unified.vu. If we take businesses today, they use a lot of different types of software. Especially in the UK, some companies use a hundred types of software. It's really difficult to get used to it, and what you try to do is get a representation made of all the software you use and all the information that is relevant to you. So we're trying to redefine how you use software. It's a big asking, but I'm working with a partner company so we can build a much bigger business this time around.
What will you do differently with this company?
Since I funded edocr, we had to look at doing things as low-cost as possible, which meant a lot of constraints. In the early days, we went to San Francisco, we demonstrated in exhibitions,so we built up a lot of cash, but later on we had to preserve it. With the new company, I'm looking at external funding and building partnerships at a very early stage so the product can be taken to market faster. Rather than restricting at the beginning, we want to make it more accessible so it's not just about funding, but about partnerships, and work with a lot of people from day one so we can have a bigger impact. Hopefully that'll allow it to grow faster.
What do you think edocr's future will be with Accusoft? I understand they're making the software available free of charge?
Edocr has a third-party technology that allows documents to be viewed online. Accusoft has a technology that's better than what we use, so they want to replace edocr's technology with their own technology and make edocr a promotional vehicle. Yahoo uses their technology, but nobody actually knows about it. When edocr starts using that technology, people will realize there's a company called Accusoft. At the same time, while they're making it free now, they might rethink that later on. Because they have really big customers, in addition to Yahoo; they also have the big American pharmaceutical company Acumen. I'm sure Accusoft will figure out how to make money later on.
I heard some of the edocr software was developed in Sri Lanka? Will you continue to work with recruits in Sri Lanka?
In 2011, we started recruiting engineers from Sri Lanka. Edocr had a small team of three in Sri Lanka, and now they'll switch over to the new company. They need to help Accusoft for three months, but then they'll move back to me and will start working in my new company. I'm also trying to recruit a few more people.